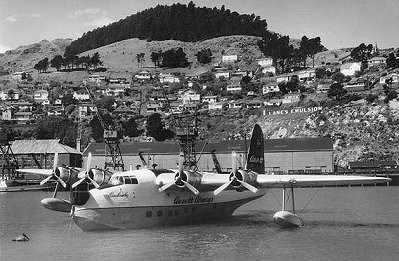 In a northerly view from Gladstone Pier Vic Browne of Cashmere photographed this unusual visitor to Lyttelton in 1952.
Able to stay airborne for 16 hours at a speed of 240 kilometres an hour, the 57 tonne Sunderland flying boat had been built in July, 1943 (to a 1937 design) by the Short brothers at Rochester, Kent. Powered by four 1,200 horsepower engines on her 34 metre wing span, she had originally been equipped with a dozen machine guns and carried nearly 5 tonnes of bombs or depth charges.
In April 1947 the aircraft was converted to a 30 passenger Tasman Class Mk IV Sandringham and leased to Tasman Empire Airways Ltd (TEAL) for service on the Sydney-Auckland route. Sold to Australia three years later for $10,000, she was converted to carry 41 passengers on her two decks in the Barrier Reef service.
In 1952 she was sold to Ansett Airways and operated out of Brisbane, mainly on the Lord Howe Island run until 1974. After a somewhat varied later career in the Americas the flying boat was sold to Britain's Science Museum in 1982 for $250,000. Since 1983 she has been on display in that museum's Hall of Aviation at Southampton.