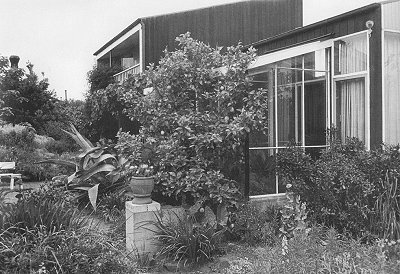 Matt Arnold's Website development team at Sons & Co. are the latest occupants of Diederik van Heyningen's 1965 Photographic Studio at 207 Cambridge Terrace (between Colombo and Manchester Streets). Their commercial premises are a classic example of post-war modernist architecture and it therefore comes as no particular surprise to learn that they've published an interesting web site devoted to our domestic architecture of the Modernist period.
The site covers architectural design from the 1940s to the 1980s and includes biographical articles of such renowned local Architects as Paul Pascoe, Peter Beaven, Miles Warren and Maurice Mahoney.
Above is a photograph of the 1961 home of the renowned Christchurch artist W. A. (Bill) Sutton (1917-2000). Yet to be included in the web site's comprehensive listing of outstanding examples of the period, the Sutton house at 20 Templar Street, Richmond could be a worthy addition.
The
Christchurch Modern web site
opens in a new window
An
RSS feed
is also available for site updates.
Comment by Matt.  January 9, 2009.
The building was originally designed for Mannering & Associates by Warren and Mahoney as a purpose-built photographic studio in 1965. Warren and Mahoney celebrated the opening of the Town Hall there in 1972 as the studio looks right across Colombo St. It's not in great condition and the original white has been painted over, but a great building nonetheless and under the threat of development.
Comment by Canterbury Heritage.  January 10, 2009.
By 1951 the 29 year-old photographer Guy Miles Mannering and his partner Keith Donaldson had purchased the Clifford Studios at 115 Cashel Street. Henry Herbert Clifford (1872-1949) had first opened his studio in 1903, but is probably more remembered as being the husband of the notorious "Ma" Clifford, an immensley wealthy racketeer Landlord.
Renamed as the Mannering & Donaldson Studios they specialised in Studio, Commercial, Industrial & Candid photography at the Cashel Street premises, which was situated above the bookshop of Whitcombe and Tombs (now the Whitcoulls Building) until 1965.
Mannering and Associates Ltd had moved from 207 Cambridge Terrace to 14 Stanley Street, Sydenham by 2001. The renowned Guy  Mannering died in 2003 at the age of eighty.
The original Cashel Street premises had also been occupied by the Photographic Engravers T. E. Warren and Company. Accordingly, there may have been a degree of kinship between Guy Miles Mannering and Sir (Frederick) Miles Warren, architect of the Cambridge Terrace Studio.