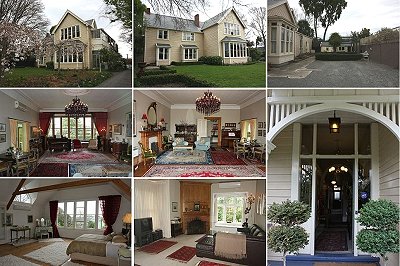 LARGE IMAGE OPENS IN A NEW WINDOW
Bill Moorhouse (1825-1881), as he was known upon embarking for New Zealand in 1851, was a Lawyer, trans-Tasman ship owner, Editor of the
Lyttelton Times
, Real Estate speculator, Registrar-General of Lands, Politician, Superintendent of Canterbury, Mayor of Wellington and a Bankrupt.
Superintendent Sefton Moorhouse, as he came to prefer being known, bought 50 acres of Charlotte Jackson's Merevale Farm in the Papanui district in 1862 and proceeded to build a 21-room clapboard palazzo, which he named Merevale House. The sheer expense precipitated bankruptcy the following year, and although completed, only a substantial part of his grandiose folly survives.
Successive owners have included John Thomas Peacock, Alfred Louisson, a Samuel Butler, John and Michael Studholme, Harry and Ada Wells, Charles Todhunter, Yvette Nicholls and Murray Hunter, Andrew and Jocelyn Allison, Patrick and Jo Kerr, and Christopher and Danielle Smith since 2000. Since the later 1950s the area has become known as the salubrious suburb of Merivale (sic).
The surviving part of his home is currently being offered for sale at $995,000, but curiously the marketing blurb makes no mention of any aspect of the historical significance of the five double-bedroomed house, now on a mere 831 square metres of land, at 31 Naseby Street, Merivale.