LARGE IMAGE OPENS IN A NEW WINDOW
From Melbourne, with the Duke of Edinburgh aboard, Her Majesty's Yacht Britannia berthed at Lyttelton's Oil Wharf on Saturday the 15th of December, 1957.

At 7.00 a.m. on the following morning Britannia shifted berth across to the north side of the harbour where the New Zealand frigate escorts Hawea and Pukaki were already lying.

Above: Prince Phillip went ashore at 10 a.m. and was presented with a yacht by the New Zealand Manufacturers' Federation. This boat, called White Heron, was made of fibre glass, and was subsequently embarked on the boat deck for carriage home. After inspecting the Antarctic supply ship HMNZS Endeavour (below) and her crew, the Duke of Edinburgh left by car for Christchurch to carry out the remainder of the day's programme.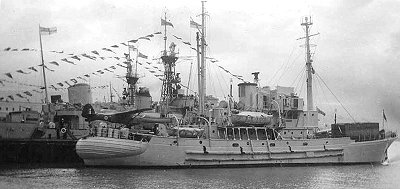 LARGE IMAGE OPENS IN A NEW WINDOW
Britannia departed for the Chatham Islands at 11 p.m. on Monday the 17th December. The Endeavour, which later followed Britannia out had the misfortune to be caught in a heavy gust in the harbour. The reconnaissance aircraft, which was secured to her aft deck, was damaged, but the vessel herself escaped damage.

HMNZS Endeavour had been commissioned into the Royal New Zealand Navy on the 15th August, 1956. The wooden hulled Antarctic supply vessel was built in the United States in 1944 as the net layer USS Satinwood and served in the British Home Fleet as HMS Pretext from 1944. 

In 1947 she was bought by the Falkland Islands Government and renamed John Biscoe. She was subsequently refitted for polar conditions and for three years serviced stations and parties of the Falkland Island Dependencies.

In June 1962 she was sold again, renamed the Arctic Endeavour and fitted out for sealing work in the Arctic. The vessel foundered off Newfoundland on the 11th of November, 1982.

---
Acknowledgement: the enlargable images are from the Canterbury Public Libraries'
flickr web site
.