On this day one hundred and thirty five years ago the Christchurch City Council sank the first public artesian well at the triangular corner of Tuam Street and High Street. Bored to a depth of 25 metres, the pressure was sufficient to force the water more than 3 metres above the ground level.
In an area mainly populated at that time by Irish Catholic labourers and domestic servants, the well provided drinkable water to the local populace. An ornamental pond, with decorative cast-iron railings was subsequently erected over the well (above centre Right circa 1880). This structure was removed in 1930 when the immediately adjacent premises of the merchants Wilson, Sawtell and Co. was replaced by the High Street Post Office (now Alice in Videoland). Since then a raised flower bed (below) has occupied the site of the city's first public well.
Comment
Jayne said...

Is there a plaque or anything to mark the spot?
The garden bed looks lovely, wouldn't take much to attach a plaque to the bluestone wall.
---
Canterbury Heritage said...
The only plaque at the site identifies David Marshall's three life-sized bronze Corgis installed in 2003 as an amusingly irreverent commemoration of the queen of New Zealand's 50th jubilee.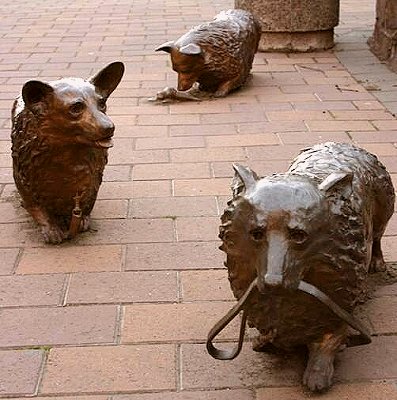 There are very few commemorative plaques within the city, but there are a number of ephemeral interpretive display, of which the historical inaccuracies of many might appear to indicate a degree of nepotism in their commissioning.