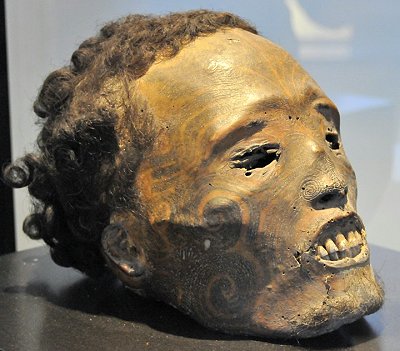 Photographed on the 28th of December, 2008 by 29 year old Nickmard Khoey of Auckland, this embalmed Mãori head is displayed in the Oceania rooms of the Royal Museum for Art and History at Brussels' Cinquantenaire Museum.
Mr Khoey writes,
Enbalmed (sic) and shrunken head of a 19th century Maori warrior. Maori people are the indigenous people of New Zealand (where I was born/raised).

This head was on display in a musuem in Brussels I visited but can't remember the name of it. I believe it is part of a French collection that is was on loan for a pacific (sic) orientated exhibiton.
The tattoo on the warriors face is called moko or toi moko and is still practised by the Maori people in New Zealand today. However, very few on this kind of scale.

These heads are sacred and need to retruned (sic) to New Zealand.
For the sake of the historical record it should probably be noted that the early 19th century Mãori did a roaring trade in preserved heads for guns. 
The only culture believed to have farmed its own species for fresh meat, they would tattoo the heads of slaves to give them a chiefly appearance. After removal, the heads would be given an antique patina using juice derived from the Konini tree (the world's largest Fuschia).

The guns thus acquired perpetuated a vicious circle that was only broken by extensive European settlement. 
That the often repeated allegation these heads are sacred and therefore need to be returned to New Zealand is, in our unfashionable opinion, little more than ethnocentric hypocrisy.
---
Photo Credits


Top:
a 2008 photograph
by Nickmard Khoey of Auckland.

Bottom: Major General Horatio Gordon Robley with his collection of Maori heads, an illustration from
Medicine Man: The Forgotten Museum of Henry Wellcome
, British Museum Press, 2003.