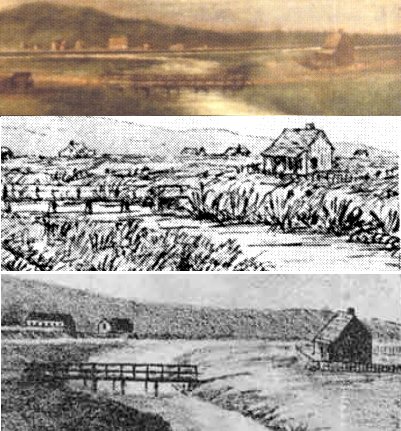 Situated on the quarter acre Town Section 404, the first house on the western side of the Avon River was built in 1851 by Henry John Cridland (1821-1867), Superintendent of Public Works for the Canterbury Association from 1849. A New Zealand Company surveyor from 1843, Cridland was also an artist, architect, and like many of his lower middle class contemporaries, a political schemer and property speculator.
By 1856 a large extension had been added to the rear of the house. In December of that year the Cridland family moved to their farm at Hoon Hay and the house became the episcopal palace of Henry John Chitty Harper (1804-1893), first Bishop of Christchurch. Harper and his large family, who fetched water from the river, occupied the house until the completion in late 1858 of the much grander Bishopscourt on nearby Park Terrace.
Situated on Cambridge Terrace, equidistant between Worcester and Hereford Streets, the house was the only occupant of the block's river frontage until 1863 when the first Public Library building was completed at the Hereford Street corner and then the Canterbury Club to the Worcester Street corner 1874.
In later years the old house appears to have been occupied by staff of the Canterbury Club. Demolished between 1918 and 1920, the site became part of the Club's garden, which was replaced with a sealed car park by 1965. As such it remains.
Harper's residential predilection for the western side of the Avon River, rather than the extensive Anglican church lands in the vicinity of Cranmer Square, was probably instrumental in the development of the area as the salubrious suburb of West End, much favoured by the professional classes.
The subsequent development of the Canterbury University College on what had previously been a residential block attracted academics to the suburb from the mid 1870s. By the 1930s many of the grand homes had become private hotels and rooming houses for the College's students.
A thriving bohemian culture developed among the artists, writers, poets and musicians who occupied the quarter through the following decades. Toward the latter part of the twentieth century the bishops, accountants and lawyers moved on to suburban Cashmere, the University left the area and much of the built heritage was replaced high rise concrete.
The city's first suburb, which was subsequently associated with many of the most illustrious names in the New Zealand arts community of the twentieth century, lost its name, social cohesion and much of the former aesthetic.
Photo Credits: the Canterbury Museum, the Christchurch Public Library, the Christchurch Art Gallery and the Alexander Turnbull Library.