LARGE IMAGE OPENS IN A NEW TAB OR WINDOW
At the end of a 3,488 kilometre flight from Christchurch, NZ7005, a 1969 Lockheed C-130H Hercules aircraft of the Royal New Zealand Air Force's No.40 Squadron unloads passengers and supplies at the Williams Field on the Ross Ice Shelf in McMurdo Sound in early 1974.
Seen above in original livery, but subsequently painted out in shades of camouflauge green and now in a monochrome gun-metal grey, the 40 year old aircraft is still in service with the RNZAF.
No work of a local artist would be more familiar to New Zealanders than that of the relatively unknown Maurice Conly.
For 54 years Wing Commander Robert Maurice Conly (1920-1995) was the last Royal New Zealand Air Force Official Artist. But beyond his stamp designs for New Zealand, Tokelau, the Ross Dependency, Niue and the Cook Islands, Conly's New Zealand twenty cent and one dollar coin designs are familiar to all Kiwis.
Dunedin born and trained, Conly was based at Christchurch when he returned to Antarctica in 1974 as an Antarctic Arts Fellow under the Artists to Antarctica Programme.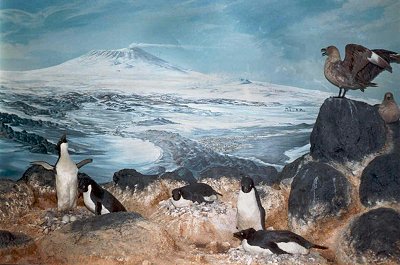 Commissioned to paint three large dioramas of wildlife studies for the Antarctic wing of the Canterbury Museum in 1977, he published
Ice on my Palette
in the same year. The coffee table sized book includes 27 sketches and 26 colour plates, with text by the Dunedin author Neville Peat, then an information officer with the Antarctic Division of the Department of Scientific and Industrial Research.
One of the joys of the last town before Antarctica is the weekend Flea markets, not the trendy version on the city's outskirt at Riccarton, but the smaller, lesser known markets dotted around the inner suburbs. Signed by the authors, a copy of
Ice on my Palette
(from which the top illustration comes) was recently found in the Linwood Market at approximately a fifty-sixth of its international market value.