Subsequent to the opening of the second Railway Station on Moorhouse Avenue in 1867, Manchester Street South became the principal tram route between the inner city and the station. As a consequence, that part of Manchester Street from High Street to Moorhouse Avenue became lined with hotels, restaurants and various places of entertainment, etc.
Not surprisingly, in a tradition spanning at least 130 years, the street has been the favoured haunt of those practitioners of what is reputed to be among the world's older professions. Although probably unaware of their long precedent, Christwegian courtesans are still to be found plying their precarious trade along the more northern part of Manchester Street during the hours of darkness.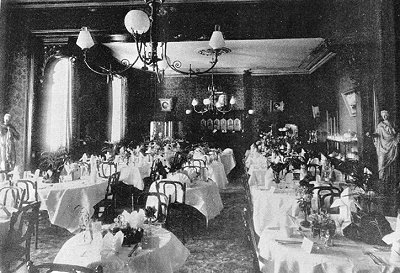 Marrying a rich widow, the dandified John Etherden Coker built his third hotel on her land. Opened in 1880, it would be far from the largest, but quite the most luxurious of the Manchester Street hotels. Pictured above is the hotel's dining room. With its marble statuary and starched table linen this room offered elaborate farinaceous repast to such notables as Rudyard Kipling and the Antarctic explorer Robert Falcon Scott. Two years after Coker's demise the hotel's public bar was reported to be the haunt of prostitutes and their consorts.
Alas all hotels have their heyday and long gone are the Terminus, Silver Grill, A1 Temperance, Railway, Manchester and Leviathan, but in much reduced circumstances, Coker's Hotel lingers on as a Backpacker's hostel. A significant part of its formerly elegant facade is now artistically rendered to represent a semi-derelict wooden shanty and the sadly dilapidated dining room (above) continues to serve a similar, but more modest purpose.
---
In 1938 William Gray Young (1885-1962) submitted a Bauhaus inspired design for a new Railway Station. To be the city's largest building, construction was delayed until 1953 and the somewhat modified design was finally completed in 1960. The Railway Station survived as such for only 31 years to be sold off for redevelopment as an entertainment centre.
---
Much touted as Christchurch's tallest building, the 86 metre, 23 level C1 apartment building in Gloucester Street East has been plagued with problems. Although all but four of the apartments have been pre-sold, the above photographs indicate the minimal extent of construction development between May 2008 and May 2009.