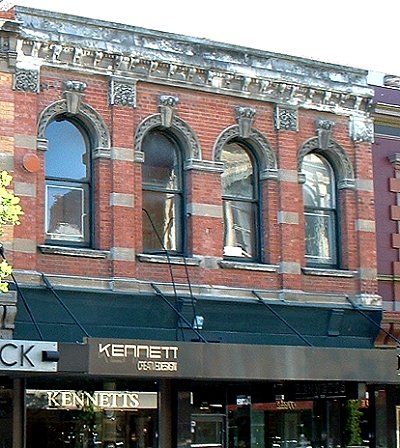 Built in the front garden of an earlier (and extant) house in the mid 1880s, this is 209 High Street, Christchurch. Now occupied by Kennett the Jeweller, it is situated on the western side of High Street, between Lichfield and Tuam Streets (near to the Manchester Street intersection).

By 1906 the upper floor was the Crown Studio of the photographer George Oswald Viertel. In 1925 it was listed as the photographic studio of Ernest Millard, becoming the studio of Ingham Milnes by 1930. Known as the Elmar Studios in 1944, it had became Elmar and Ambrose Studios by 1971, when Mr J. Ambrose combined his Armagh Street premises with the long established business.

Although many Cantabrians would have old photographs bearing at least one of the aforementioned names, perhaps few would be aware that their historic family portraits originated from the upper floor of this building.
The old house behind 209 High Street
---
Addendum
1929
The entrance to the upper floor Crown Studios to the Left. A vertical arrangement of photographic portraits is just visible to the Right of the entrance.

Candid street Photographers were a familiar sight in Cathedral Square from the later 1920s until the early 1960s. This example of a proof ticket come from the collection of Anthony Rackstraw, publisher of the
Early Canterbury Photographers
web site.