LARGE IMAGE OPENS IN A NEW WINDOW
Entitled
A north-easterly aspect of Lyttelton from near the Oil Wharf
, this is an image by a local photographer.
This photograph was stolen and published by Harcourts Group Ltd for the specific purpose of making a commercial profit or gain; namely, to promote sales of the Fitzroy Head residential subdivision.
LARGE IMAGE OPENS IN A NEW WINDOW
In deliberate infringement of New Zealand's Copyright Act, the photograph appeared in a double page advertisement of issue 506 of the
Bluebook Canterbury
magazine. It was also used on twelve pages of four separate web sites (one of which, Harcourts proclaim, receives more than half a million views each month).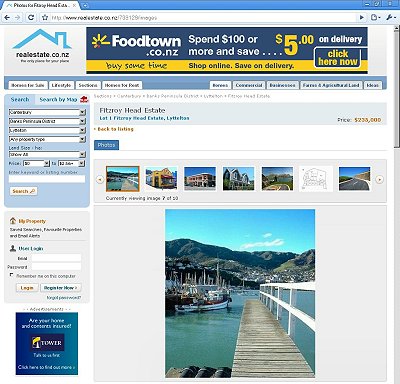 LARGE IMAGE OPENS IN A NEW WINDOW
In late 2008, Bryan John Thomson, CEO of the Riccarton, Christchurch based Harcourts Group was asked by the amateur photographer to address the matter of this theft of intellectual property. He responded with the assurance that "this matter will be addressed in the appropriate manner."
With no subsequent communication, Thomson's interpretation of an appropriate manner might appear to constitute ignoring a criminal offence punishable by substantial fines and a lengthy custodial sentence.
Perception IS NOT Reality
is the title of Thomson's latest blog post. In view of the foregoing it could seem that the chief executive of the New Zealand's largest real estate group's personal perception of legal responsibility may be overdue for a reality check.
LARGE IMAGE OPENS IN A NEW WINDOW
Now an international conglomerate in an industry whose ethics are reputedly perceived by New Zealanders with less than favour, the Harcourts Group is currently part of the
Leading Real Estate Companies of the World
global network of nearly 700 real estate companies with 5,500 offices and 170,000 sales associates in 38 countries.