Another one bites the dust: a circa 1875-1880 villa in inner-city Kilmore Street in the process of demolition.

A velocopidist commuting to the city via the Avon River bank in the suburb of Richmond.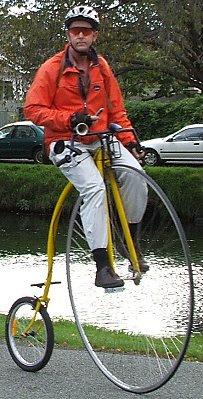 The Pennyfarthing is of recent vintage.
Footnote
A century ago Christchurch, along with Amsterdam, ranked highest among the world's cycling cities and was also the hub of New Zealand's bicycle manufacturing industry. By the mid 1960s the increase in motorised traffic on the city's streets began to see a signficant rise in the injuries sustained by cyclists. An ambulance at the bottom of the cliff mentality saw the introduction of a legal requirment for all cyclists to wear safety helmets and the popularity of the bicycle went into decline. Not even the cycling fatalities sustained by a Christchurch City Councillor, New Zealand Police's most senior Traffic Officer and an internationally renowned cyclist in the last week of a two year world tour, has seen the introduction of enlightened policies and protection aimed at promoting cycling in Christchurch in particular or New Zealand in general.
However, and in spite of the foregoing, we're pleased to note that over the last five years the number of commuter cyclists in Christchurch has increased by 25%. We also applaud the somewhat belated proposal for a national cycleway, so widely popular in more developed countries (Britain's national cycleway recorded 475 million journeys in 2007).
And lest you should think that the foregoing is little more than the rant of a grizzled curmudgeon (you're probably right), it is written from a perspective of sixty years cycling the streets of Christchurch and far beyond (and upon the same Raleigh Roadster, with a camera and tripod in the pannier bag, since 1956).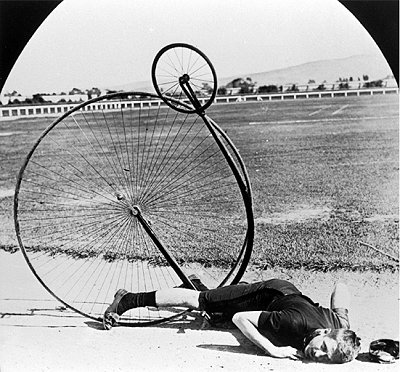 LARGE IMAGE OPENS IN A TAB OR NEW WINDOW
World cycling champion
Frederick Wood
(1861-1935) of England comes a cropper at Lancaster Park in early 1888 in a seemingly posed photograph by Alfred Ernest Preece (1863-1946). Photo credit: Christchurch City Libraries, File Reference: CCL PhotoCD 1, IMG0072