"Yesterday one of the largest blooks of stone from any of the local quarries was delivered at Mr D. Reese's yard, St Asaph Street west, from the White Rock quarries. The stone, which is 10 feet 4 inches by 4 feet 1 inch by 2 feet 4 inches, is to be carved into a figure of Apollo, to be placed on the pediment of Messrs Milner and Thompson's new music warehouse, now in course of erection in High street."
The Star, 27 February, 1883.
---
"The elevation of the stone figure of Apollo to the pediment of Messrs Milner and Thompson's new music warehouse was the occasion of some excitement, and caused a considerable crowd to collect in front of the building this afternoon. In order to provide against the musical divinity suffering any personal injury during the ascent he was enclosed in a sort of cage, and protected by swathing bands of canvas. The figure was successfully hoisted and lowered into position about 2.30 p.m."
The Star, 16 April 1883
In 1874 Robert Henry Thompson (1835-1915) and Benjamin Milner established the Canterbury Music Depot on the north-east corner of High & Cashel Streets.
Manufacturers and Importers of Pianos and Organs and General Musical Warehousemen, they prospered to the extent that nine years later they were able to erect a three storey stone building next door. For the pediment of their new premises they commissioned a statue of Apollo, the god of music from classical antiquity.
The business continued to expand and in 1895 moved to much larger premises on the corner of Bedford Row and Manchester Streets (that building, next to the former Majestic Theatre, barely survives in a derelict condition, behind a 1930s facade).
It's likely that the Apollo statue was moved with the company, but was not placed on the pediment of the newer showrooms. The circa 1930 photograph below shows Milner and. Thompson's 1883 building, with the statue removed, occupied by the photographic supplier and chemist Wallace and Company.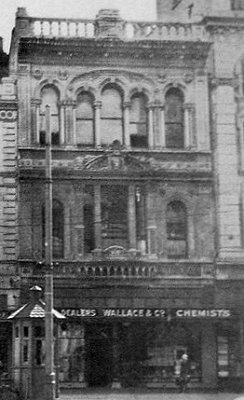 By the 1980s the High Street building had fallen prey to the Southland Building Society. Below: stripped of its cornice and some of the architectural ornamentation, the stone facade was painted in garish colours.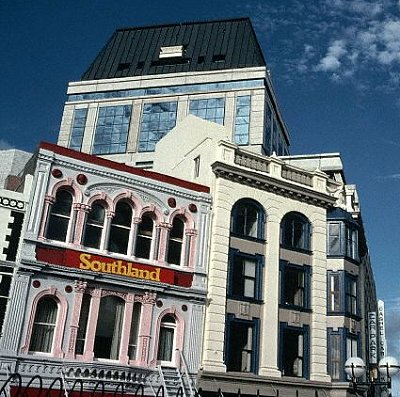 Surviving into its third century, the old building is currently the premises of Quest, purveyors of lifestyle attire and accessories for those of the alipne persuasions.
Thanks to Sarndra for asking the question, for which the above is the answer.