There can be few visitors to our museum who fail to appreciate the contributions of local artists to the displays, but of the artists themselves there would appear to be little known.
Thirty-four year-old Ray Jacobs joined the staff of the museum as a Preparator in 1940. Son, father and grandfather of Taxidermists, Ray constructed the much admired recreation of a Victorian period Christchurch street (above). In addition to being an outstanding Taxidermist he also constructed the foregrounds and painted the diorama backdrops for all of the habitat groups in the 1956 Edgar Stead Hall of New Zealand birds. Ray retired in 1972 and died in 1974, about six weeks after a bedside investiture by the Governor General as an Officer in the Civil Division of the Most Excellent Order of the British Empire.
Above: Ray Jacobs creating the diorama of the Waitangituna Stream at Okarito in South Westland for the hall of New Zealand birds. White Herons (Kotuku) and a similar estaurine habitat would have been familiar to the hunters who first inhabited the confluence of the Avon and Heathcote rivers from about 1350. Much sought after for their feathers, the Heron was almost exterminated and is still a rare sighting in the Christchurch district.
The completed diorama


LARGE IMAGE OPENS IN A NEW TAB OR WINDOW
---
Leo J Cappel was also a Preparator at the Canterbury Museum. Subsequently author of
A Guide to Model Making and Taxidermy: A Comprehensive Manual for Sportsmen and Teachers, for Model Railway Enthusiasts and Other Hobbyists,
Leo created the Museum's Moa Hunter diorama (above) before transfering to the Auckland Museum in 1964. Now in his mid-seventies and widely renowned as a writer, sculptor, composer and award winning playwright, Leo lives on Kawau Island in Auckland's Hauraki Gulf.
---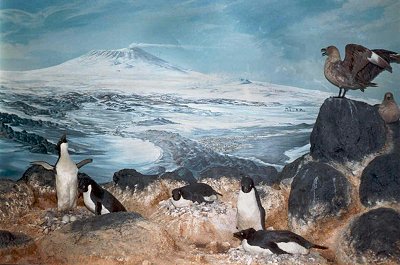 Commissioned to paint three large dioramas of wildlife studies for the museum's Hall of Antarctic Discovery in 1977, Wing Commander Robert Maurice Conly (1920-1995) also published
Ice on my Palette
in the same year. The large format book includes 27 sketches and 26 colour plates of his Antarctic impressions.
For 54 years Maurice Conly was the last Royal New Zealand Air Force Official Artist. Beyond his works of art and postage stamp designs, Conly's designs for our twenty cent and one dollar coin are familiar to all New Zealanders.
---
Appreciation: thanks to
Cheryl Bernstein
for the precipitative query and also to
Sarndra Wilson
of the Auckland Museum, the polymathic Leo Cappel and Terry Jacobs (youngest son of Ray Jacobs) of
The Taxidermist Ltd
.