Founded in January 1851, the Lyttelton Times newspaper also published an evening edition known as The Star from 1868. More widely read in Sydenham than Fendalton in its heyday, the evening edition lingers on as a twice weekly giveaway, supported by no more than advertising and Christchurch City Council advertorials.
Sad to say that its reduced circumstances would seem to no longer allow for the expense of journalstic expertise, as further indicated by the above photograph, published under the heading
The Way We Were
on the 20th of May 2009, and erroneously captioned "The intersection of Cashel St and Colombo St in 1860, with Blake's Hotel and the A.I Hotel around the corner."
For the sake of the historical record we proffer the following alternative caption:
The A.1. Hotel was founded in 1857 on the Southeast corner of Cashel and Colombo Streets, a site now occupied by The Crossing bus terminus in the renovated former Beath's department store building of 1935. The original gabled hotel (below) was replaced in 1874 by the
second A1 Hotel
, a three storey building, which burnt down four years later.
In 1879 it was rebuilt as the two storey structure depicted in the above photograph. James Blake is known to have been the Publican of the A.1. Hotel by 1865, but there's no known reference to a Blake's Hotel in any local archive.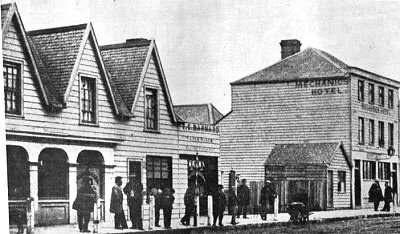 The Colombo Street facade of James Blake's first A.1. Hotel to the Left, with the Mechanic's Hotel to the Right and the Watchmaker's shop of Thomas Charles Barnard adjoining the A.1. Hotel.
By 1915 the ground floor of the third A.1. Hotel had been converted into shops
Beath's 1935 department store extension was originally designed to have six floors, but The Great Depression of the 1930s got in the way.
Beath's department store reincarnated as The Crossing bus terminus in 2003.