Arriving from the Netherlands in 1890, and apart from five years at Sydney, the artist Petrus van der Velden lived in Christchurch until 1913.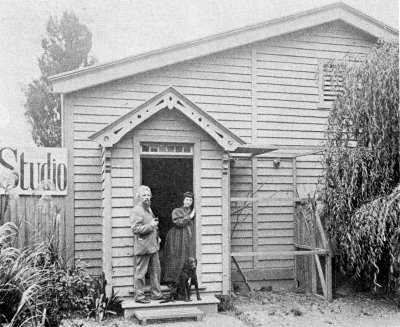 Petrus and Sophia van der Velden in front of one of the two studios in the garden their house at the corner of Conference and Durham Streets, Christchurch, about 1893.
Left: the van der Velden house in 2009. Now much altered and converted into five flats, it would originally been of similar appear to its immediate neighbour (Right).
In spite of his 30 years of European experience as a professional artist his services were declined by the Canterbury College of Art. Accordingly, van der Velden received pupils for terms of thirteen lessons in two and a half hour sessions. He tutored some of Canterbury's most renowned artists, including Sydney Thompson and Raymond McIntyre.
LARGE IMAGE OPENS IN A TAB OR NEW WINDOW
During a visit to Auckland van der Velden contracted Bronchitis and died of heart failure on the 11th of November 1913. He was buried in an unmarked grave at Waikaraka cemetery three days later. The subsequent plaque (below) is of a somewhat later vintage.
LARGE IMAGE OPENS IN A TAB OR NEW WINDOW
In November 1963, to mark the fiftieth anniversary of van der Velden's death, one hundred of his paintings were exhibited at the Robert McDougall Art Gallery.
Championed by Vincent van Gogh, his paintings are exhibited in Amsterdam's Rijksmuseum, but it could be considered a sad reflection upon Christchurch culture that, although we would seem to have a predilection for erecting monuments to, and naming bridges and parks, etc. after politicians and commercial magnates, eminent artists so widely regarded as van der Velden go uncommemorated.
LARGE IMAGE OPENS IN A TAB OR NEW WINDOW
A photographic portrait of Petrus van der Velden taken on the 9th of July, 1896 by
Francis Lawrence Jones
of Dunedin (courtesy of
Early Canterbury Photographers
).
Further Reading
Rodney Wilson;

Petrus van der Velden 1837-1913

Dictionary of New Zealand Biography.

Rodney Wilson;

Petrus van der Velden: The Marken and Otira Series

Art New Zealand.

Photo Credits
van der Velden grave: Sarndra Lee of Auckland -

sarndra.com



Portrait: Alexander Turnbull Library; S. P. Andrew Collection (PAColl-3739),

Picture reference: 1/1-014987; G

.

Studio: Robert McDougall Art Gallery;

A concise History of Art in Canterbury 1850-2000

, Christchurch, 2000.