LARGE IMAGE OPENS IN A NEW TAB OR WINDOW
Nicknamed the Hack Circle from the 1990s, the former site of the 1989 amphitheatre at the intersection of High and Cashel Streets is to be renamed as part of an upgrade that will include an extension to the vintage tram route. A Christchurch City Council spokesman is reported as saying that public submissions on a new name for the area could be the basis for a popular vote.
Accordingly we suggest the name
Pioneer Plaza
for what is undoubtedly one of the most significant historic locations in the city. Above is a panoramic view of the junction on the morning of Thursday, the 22nd of April 1869 and below is a similar aspect in 2008.
Known simply as "The Triangle" for a century, the triangular junction was matched to the south-east by the "Clocktower" junction at High and Manchester Streets and "The Bottleneck" junction at the intersection of High, Hereford and Colombo Streets to the northwest.
"The Triangle" intersection was the origin of the city's commercial precinct. Here was the 1851 passenger terminus for coaches to the ferry at Heathcote, first hotel (The White Hart), first Restaurant (Birdsey's), first Chemist shop (Wallace & Co), first fire station and the Customs House.
Above: Cobb & Company's circa 1854 booking office on the site now occupied by the Hallenstein's building. From here coaches departed for Papanui, Riccarton and the outlying settlements at Kaiapoi, Rangiora and Oxford. By the mid 1860s Cobb's coaches were carrying passengers from here to Timaru and the goldfields of the West Coast.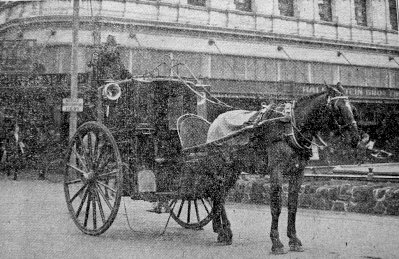 From here could be hired horse-drawn passenger cabs and Carrier's carts. Hansom cabs were a familiar sight on the rank until 1944 (above), which continued as a taxi rank into the 1960s.
Above: because of its historical significance as the place where they first arrived in Christchurch, the surviving pioneers from the first emigrant ships of 1850 gathered here to be photographed in 1900.
In 1910 the original gas lamp standard was replaced by a triangular flower bed, with a fountain at the centre. This feature survived until the early 1980s, but was removed for the 1983 first stage of the City Mall.
Accordingly, we consider that in naming the revamped intersection
Pioneer Plaza
, this generation will be honouring the memory of those pioneers who founded our city.

The 1989 Hack Circle amphitheatre