Generally regarded as little better than a desert, the area originally known as the Sand Hills district, between Christchurch and New Brighton, was flat land humped up into a series of low, shifting sand hills, barren except for a few hardy native plants.

In 1875 the Architect and Christchurch City Surveyor Cornelius Cuff (1837-1901) purchased all of the area that would become known as Wainoni. Cuff built a substantial two-storey house, with a large conservatory attached to its eastern side. Named Sandilands it was sold to Henry Slater a Lawyer of Lichfield Street. Last occupied by the widowed Ellen Susanna Slater in the 1950s, it became derelict and was demolished about 1963 to make way for Vancouver Crescent.

From the early 1880s Cuff subdivided much of his land into rural-recreational blocks of 20 to 30 acres. All of the six grand houses built between 1882 and 1907 survived into the 1950s, but only two have made it to the 21st century.

With the advent of sewerage connections from the later 1940s Wainoni quickly developed as a suburb of predominantly three-bedroom weather board houses on quarter acre sections.

An elevated westerly view of Ottawa Road in 1946, with the extensive grounds of Cornelieus Cluff's 1870s house in the background. Originally a sandy track to Bickerton's Fireworks factory, it became known as Onslow Street in the late 1880s (after a Governor General), the name was changed to Ottawa Road in 1933 to mark the visit of a Canadian Prime Minister.

A 1948 south-easterly view towards Pages Road of Shortland Road (now Street) from the corner of Wainoni Road. Shortland Street was probably named after Dr Edward Shortland (1812–93), Physician, early South Island explorer, Māori scholar and linguist.

The Grand Houses of Wainoni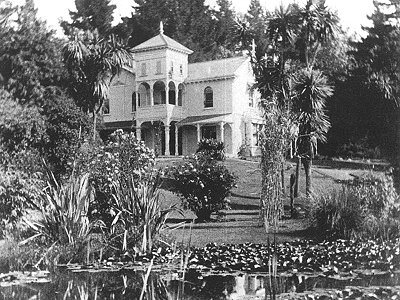 Littleover House was built in 1882. It was demolished in 1963 to be replaced by a Milk Transfer Station in what became Tahuna Street.


Alexander Bickerton's 1885 house was called
Wainoni
after the original Māori name for the bend in the Avon River, which it overlooked. The house stood above the since leveled eastern corner of Wainoni Road and Bickerton Street.
Evening Post
, April 1914.
Wainoni Park, near Christchurch, known for several years past as an open-air pleasure resort, was offered for sale by auction recently. The property was first submitted as a going concern, but the best bid received was £30,00, at which figure it was passed in. The movables on the property were then disposed of. Chief interest centered in the disposal of the menagerie. All the animals and birds were sold, the principal buyer being Mr. J. J. Boyd, who was acting for the Onehunga Zoo. Prices received for the principal lots were; Malayan bear £3. Japanese bear 1 £5, twenty-two monkeys 10 shillings each, three black wallabies £1 each, two kangaroos £5, rat kangaroo £1, golden pheasant £3, black lemur £2, African monkey £1.
On Pages Rd was the late 1880s home of the Tuam Street merchant and racing horse owner Gilbert Hamilton McHaffie (1861-1905). By the early 1920s the house had become the children's foster home of the Glanville family, until it was purchased in 1947 by Horace Papps who turned the house and five acres of grounds into the Aranui Motor Camp. The house was demolished 1975 and is now the site of McHaffie Place (off Shortland Street).
A 24 image
photographic essay
of the house in the 1930s and 1940s by a Glanville grandson opens in a new window.
161 Pages Road was built in the early 1890s on 23 acres by Thomas Cheal Norris (1848-1921). It survives on one acre as the
He Waka Tapu
Maori Health Centre. It was a very fast tram ride into the city from here; by 1911
The Evening Post
was reporting that electric trams were pushing 60 Kilometres an hour along Pages Road.
To the design of A H. Hart, this house was built in 1907 by W. C. Evans, at the corner of Pages Road and Shortland Street, for Henry Francis Stevens (1859-1931), an Wholesale Druggist of Worcester Street. Although the house and its former stables survive, it has been converted into six flats, and a row of concrete home units now occupy the Pages Road frontage.
---
To promote the Christchurch City Libraries Retrospective: Christchurch life, architecture and design 1940s - 1970s photo competition, we're featuring a series of images from each decade. This week we look at the later 1940s.